Kristina Taylor (President)
Kristina has a background in psychology and conflict resolution and currently works as a professor, counselor, and conflict coach. She is interested in using neuropsychology principles to enhance ADR practices. She received her Ph.D in conflict resolution from Nova Southeastern University. 
Rachel Brooks (Treasurer)
Ms. Brooks graduated from DePaul University with a bachelor's degree in Accounting. She is an Associate in the Disputes, Investigation, and Compliance group at Stout where she focuses on financial analysis, forensic accounting, and financial investigations. She is a Certified Public Accountant ("CPA") and Certified Fraud Examiner ("CFE").
Larissa Hachinski (Secretary)

.
Board Members
Robert W. Berliner
Robert W. Berliner, Jr., is a practicing mediator and an accomplished attorney, and has been a principal in many real estate and other business ventures. As an attorney, he has represented businesses of all types and sizes, including manufacturers, distribution companies, real estate developers and investors, contractors, financial institutions, and retailers. With more than 30 years of legal and business experience, he brings an exceptional array of skills and insights to the mediation process, his law clients and the real estate marketplace. His areas of particular mediation expertise are business, real estate, construction, estates and bankruptcy.

Shafiq Hemani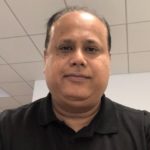 Shafiq is a pro bono mediator and afilliated with the Aga Khan Conciliation and Arbitration Board (CAB).  He served as a Board Member of CAB for the Midwest United States from 2009–2015.  Currently, Shafiq continues to support CAB's work mediating commercial and matrimonial disputes involving members of the Ismaili Muslim community.  Professionally, Shafiq is a Technology professional for the Bank of Montreal.  He holds an MBA from DePaul University and BBA from the University of Illinois at Chicago.
Corinne "Cookie" Levitz, J.D.
Cookie has been involved in the mediation field since 1978.  She is employed as a supervisor and family mediator of parenting disputes for the Circuit Court of Cook County. Cookie has been an adjunct faculty member at several area law schools since 1987, including Chicago-Kent and Loyola where she teaches Mediation and Child & Family Law Mediation. Cookie has had an on-going involvement with the Center for Conflict Resolution in Chicago since 1978 where she serves as a mediation and conflict resolution trainer, and volunteer mediator and facilitator.

Mark Mayer (Past President)
Mark Mayer works in dispute resolution as a litigator, mediator and arbitrator. As a litigator, he handles a wide variety of matters in personal injury, commercial and other areas. Having trained and certified as a mediator at Northwestern University and the Center for Conflict Resolution, he mediates with private parties and at the Center for Conflict Resolution. He is on the roster for the Cook County Law Division Court-Annexed Civil Mediation program, Resolute Systems and VirtualCourthouse.com. He serves on Cook County Mandatory Arbitration panels and arbitrates for insurance companies and private parties. He received his J.D. from IIT/Chicago-Kent College of Law and B.A. (Magna Cum Laude) from Loyola University Chicago.
Robert Olian
Rob Olian mediates environmental disputes. He brings the knowledge and experience gleaned from nearly 40 years in the private practice of environmental law at Sidley Austin LLP, where he headed the Chicago Environmental practice group and was co-leader of the firm's national Environmental practice. He is listed for his environmental expertise is Who's Who Legal: Environment 2018 and also recognized among leading mediators in the 2018 edition of Who's Who Legal: Mediation. He received his J.D., Masters in Public Policy, and A.B degrees from Harvard and completed the 40-hour Certificate Program in Mediation Skills at Northwestern University in 2016.